Historic Boundary Treaty between Namibia and Botswana to end fatal border disputes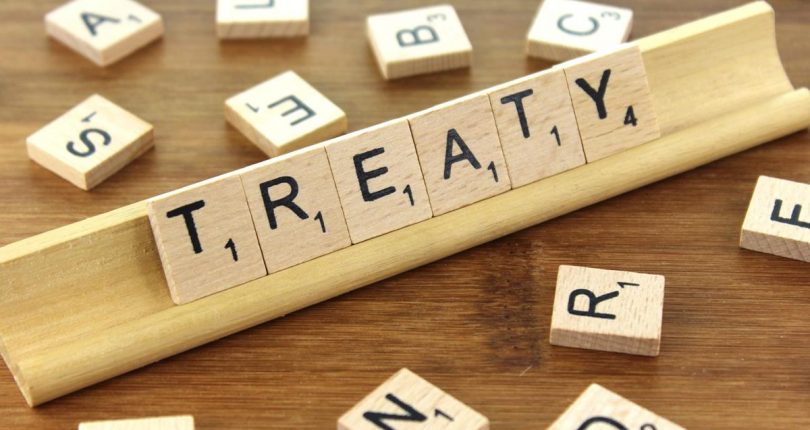 The deadly dispute on the border between Namibia and Botswana will finally come to an end with a Boundary Treaty signed. Namibia's Minister of Defense said that Namibia had signed the historic treaty which would promote peace between the two countries.
Many Namibians suspected to be poachers had been shot dead on the border by Botswana Defense Force (BDF) soldiers in the past. Botswana has a shoot-to-kill law for people found poaching in its territory. Namibians had forwarded concerns to the government on the shoot-to-kill policy which had claimed many lives especially in 2015. The Government of Namibia (GRN) was criticized for not properly addressing the border disputes between them and Botswana. Reports indicate that some Namibians were shot and killed at the border by BDF in 2015. They had been suspected of being ivory poachers.
GRN decided to take action by engaging Botswana in discussions to end fatal shootings on the border. President Hage Geingob of Namibia visited Botswana earlier this month where he signed the Boundary Treaty. The treaty was also signed by his counterpart, Lieutenant-General Seretse Khama Ian Khama of Botswana. The Boundary Treaty marks the border between the two countries clearly. President Geingob said that they were hopeful that the border conflicts would end. He said that the president of Botswana had assured them that such shootings would end. President Geingob also said the two countries had a permanent commission for security and defense issues. A forum for the commission would be held in Namibia this year with the previous one having been held at Botswana.
Defense Minister Ya Ndakolo added that more issues would be addressed while assuring Namibians that border shootings had come to an end. President Khama of Botswana said that the signed treaty was a reaffirmation on the common boundary between the two countries. The treaty would also guide them in cooperating on handling the trans-boundary issues. Khama noted that past border disputes were more in the Zambezi area, the northern border where there are wetlands. Consequently, boundaries were not clear in the flat plain of Zambezi. According to President Khama, the treaty clearly demarcated the borders in the region for both the public and defense forces. He added that this action was a move in the right direction to ending the border disputes.
Selma Ashipala- Musavyi, permanent secretary of Ministry of International Relations and Cooperation also supported the treaty between the two countries. Selma said that there was no more room for contravention of the treaty had clearly marked the border. She said that the African Union (AU) had a program put in place to resolve border conflicts to foresee good relations between nations.
Selma urged the public to get the treaty copies when made available in order to familiarize themselves with the border marks. She also revealed that the African Union had significantly helped in establishing the historic treaty.